Home sales up compared to same period last year
Date Posted: April 19, 2020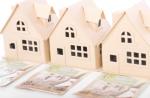 With Covid-19 in full swing across Canada the real estate market was predictably down in March as buyers remained on the sidelines and social distancing led to fewer showings.
National home sales fell 14.3 per cent in March, compared to February, but were up 7.8 per cent compared to the same period last year, according to the Canadian Real Estate Association.
Canada's largest markets saw sales plunge as the coronavirus lockdown took hold, with transactions in the Greater Toronto Area down 28 per cent, Montreal contracting 13.3 per cent and Greater Vancouver edging 2.9 per cent lower. Calgary (-26.3 per cent), Edmonton (-13.2 per cent), Winnipeg (-7.3 per cent), Hamilton-Burlington (-24.9 per cent) and Ottawa (-7.9 per cent) also saw some considerable declines.
However, federal government wage subsidies provided much needed relief for many Canadians, who felt more comfortable knowing they would not need to sell their home.
To view the Financial Post article, click here: