Unusual mortgage rate landscape created by COVID-19
Date Posted: April 13, 2020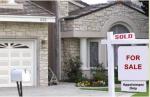 As the effects of Covid-19 continue to rile financial markets across the globe it is causing big swings in mortgage rates and creating challenges for consumers on how to navigate borrowing for a home.
With the lack of economic clarity, mortgage brokers are advising clients to keep an eye on interest rates if they are in the housing market, since interest rates may continue to fluctuate widely and lenders take different approaches to fixed and variable mortgage rates.
Fixed rates started to fall in late February as the bond market reacted to the economic threat of Covid-19. Then in early March, the Bank of Canada slashed their overnight lending rate by 50 basis points, then again mid-March, and another time at the end of March. These rate reductions did not translate into lower interest rates for consumers.
To read more of the CTV News article, click here: